Our Services
It's easy to do business with us!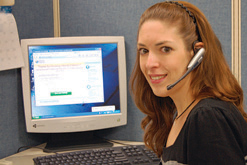 "Helpful, courteous, and attentive without being pushy." - Eden Prairie, MN
Our products are trusted worldwide, and organizations of all sizes have come to enjoy Data Management's ...
Low prices
No minimums
Volume discounts
Fast turnaround (usually ships within 2 days!)
Complete customization
Knowledgeable and friendly service
Complete satisfaction 100% guaranteed
"Outstanding service from start to finish." - Torrance, CA
A Data Management, Inc. hallmark is our open, family-like culture. "We spend the best hours of our day at work," says Chief Executive Officer Daniel A. Hincks. "So we encourage our associates to make the most of their time here and to treat everyone they meet with respect."
Volume Discounts - only apply to Threshold and MediTape products
Data Management, Inc. does offer volume discounts based on quantity of product purchased. See specific products for details. Larger discounts are available for larger orders than listed on the website. Please call 800-243-1969 for details.
Sales Tax
Connecticut businesses must add 6.35% sales tax to their total, including shipping charges.
Terms & Conditions
Prices and availability are subject to change without notice. All shipping charges are extra. See details below. All orders placed on account are entered and accepted on the basis that they will be paid within 30 days. A service charge of 1.5% per month ($1 minimum), 18% annually, will be added to any unpaid balance of 30 days or more. If it becomes necessary to employ professional services to enforce collection of a past-due account, all such collection expenses will be chargeable to the customer.
Payment Information
Acceptable online payment methods include VISA, MasterCard, and American Express. For Threshold products, we also accept Purchase Orders and P-Cards.
Shipping & Handling Information
Shipping & Handling charges will be added to your order total and invoiced accordingly. When shipping to more than one destination or to outside the continental United States, please contact us or call toll free 1-800-243-1969.
Express Delivery
All orders are shipped via UPS and express delivery is available. For express delivery (For ex. UPS Next Day Air), see the "Shipping Method" drop-down on the "Select Payment" screen in the shopping cart.
International Orders
All orders must be paid with American dollars. Call for shipping charges if requesting delivery outside the continental United States.
Return Policy/Guarantee
If you are not completely satisfied with any Data Management, Inc. product for any reason, simply return it within 90 days from receipt for a full credit, refund, or replacement.