A letter from our CEO
"We make it easy for you"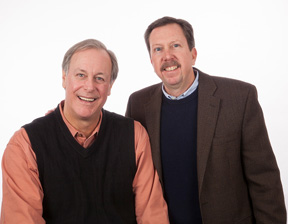 Dan Hincks, Owner & CEO Brian Gallagher, President & COO
Dear Friend,
Hello — and welcome to the world of THRESHOLD, our line of innovative visitor management tools including visitor badge sign-in books, rolls of visitor badges, and visitor management software that is all designed to keep track of visitors in your facility.
Our products show you who is allowed to be in your facility — and who is not. With our support, you will ensure that the only people who cross your threshold are those that belong there.
For signing in by hand, our self-duplicating Visitor Badge Sign-in Books create a temporary visitor badge — and a permanent, confidential visitor log — in just one easy step.
For extra security, put a time limit on your visitors with our self-expiring visitor badges that change color overnight so they can't be reused.
Want badges with your name or logo? Custom-printed orders still ship in three days or less.
If you already have an electronic visitor management system, you can get the same security features with our rolls of direct thermal or color inkjet badges. If you don't have an electronic visitor management system, our affordable eVisitor Software offers quick and easy sign-in, secure identification, reliable data access, and convenient reporting.
This web site is yours to use. Browse our products. Place a secure order. Or contact one of our incredibly helpful product consultants, by phone or email.
We make it easy for you to find the visitor badge solution that's just right for you.
Thank you for stopping by.
Sincerely,
Daniel A. Hincks
Owner & CEO